Well now we know EXACTLY why the Caps have been doing so badly lately.
They were saving all the awesome for this game.
And I do mean all of it. Once again the Ottawa Senators lent the Caps a helping hand to get us back on track, because they are a selfless and considerate hockey club. Don't think we don't appreciate it, Ottawa. We will send you a fruit basket for Christmas.
There were things in this game that were not sparkling perfection, but I don't give a fuck about those things. I guess you can choose to focus on them if you hate happiness or something, but THE CAPS WON, and they won in ways that were minorly extraordinary, and you were happy to be a Caps fan. You did not immediately locate alcohol after the game, for the first time in a month.
PROGRESS.
At first the game was nerve-wracking--Caps have bursts of excellence and the first line is out for blood. Troy Brouwer fights!
Troy Brouwer!
But all the offense we are generating doesn't seem to be resulting in any actual goals.
My kingdom for a goal.
But the Caps are doing a lot of things right and you have to think that a goal is going to happen. Clap your hands very hard and your team will score.
Good Old Maryland Boy for the goal! I love Jeff Halpern. I love watching him ace faceoffs and his backstory is impossible to resist. Troy Brouwer assists on the goal and is suddenly one goal away from a Gordie Howe hat trick. Everything is wonderful.
Then Eric Condra ruins my life.
(disclaimer: actual Eric Condra not pictured)
Tie game is not a total disaster, though. Guess what is?
(disclaimer: still Colin Greening.)
Ending the period down one.
Sens score with about nineteen people standing on our goalie. Most of them are our defense. Whyyyyy.
Time for some inspiring speeches from coach Hunter. With Bob Woods gone, this speech probably doesn't include people being told to grab their sacks, which is super unfortunate, but clearly Hunter finds something that works. The Fury is located and then unleashed.
Caps have had couple of powerplays, which is clearly a ploy by the other team to make sure that they accomplish absolutely nothing for two minutes. Maybe if the boys had about two years to set these up they would have scored.
We are zero for everything on the power play. We have been wandering forty years in the wilderness and nobody can save us.
WRONG. SORRY THAT I LOST FAITH THERE FOR A SECOND, CAPITALS because the important thing to remember about sports is that awful doesn't last forever. There is no skid of any kind that doesn't end. You just have to be patient, which is not my forte, but we waited, and it came.
Power play goal.
It is a Christmas miracle.
2-2.
The Caps smell blood and the Sens sense that they do not have long to live. Immediately they go into their natural defense and perform some beautiful swan dives. Oscar goes to the Ottawa Senators. They'd like to thank God, the little people, etc.
Occasionally Ovechkin feels the need to pretend that he is not infinitely better, more talented, filled with righteous fury than anyone in the world, but tonight he is sick of that shit.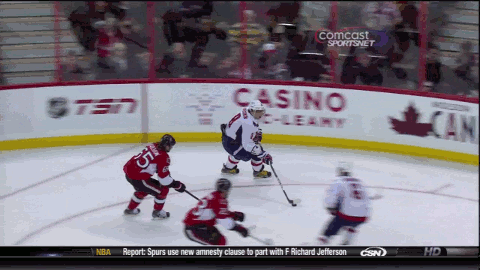 (via Dimagus)
See ya, Karlsson. GOAL. 3-2. It feels like a breakthrough.
And the awesome won't stop coming.
TROY BROUWER GORDIE HOWE HAT TRICK. Fuck yes. Gentlemen, if you want to get laid, act like Troy Brouwer. It will happen.
The Senators take exception to this by having Michalek score some kind of a goal.
(actual moment that this happened this time)
It matters a little bit, because suddenly we are within one goal again with the clock ticking down--but then John Carlson makes it not matter again.
5-3. Win.
Win win win win, energetic decisive win that you might not have seen coming from the second period, but that was what made it so fun to watch. Hockey is the best sport, and this is the best team in the history of the everything, and that includes space.

Is this the turning point? We have been looking for it. I understand that unfortunately we cannot play the Senators every game for the next 50+ games but in theory, we can also win hockey games against other people, too. I believe.

Leafs Friday. We owe them some payback. Take this win and use it as fuel to destroy everything in your path, team.

Let's go Caps.