Now, I like the Avalanche. It's hard to hate a team that's not in your conference, it really takes some effort, and the Avs haven't given us reason to. Whether or not it's actually true, I can't help but get the impression that the Avs are generally a bunch of Good Guys, solid hardworking blue-collar kind of guys. We have nothing specifically against them.
But we need that fucking draft pick.
Which means that not only do we need to destroy them tonight, but every other opponent afterward needs to also destroy them, raze the ground and salt the earth so that nothing grows there afterward--or at least not for a year. My draft lust for Nail Yakupov far, far exceeds any general goodwill I have here.
So let's do this.
AVS HATE COOL STORYLINES AWARD
Wait a second, that's not Varlamov.
Hear that? It's the sound of dozens of bloggers deleting their articles at once. Fuck you, Colorado.
JOE SACCO IS A PROBLEM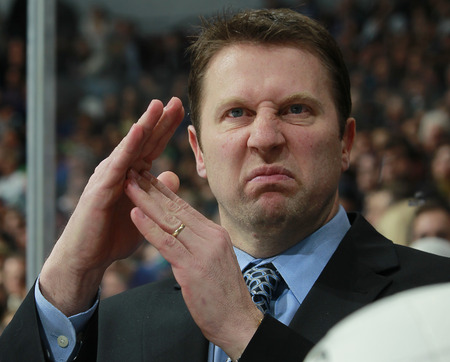 Avs are having a coaching controversy. Remember when that was us a month ago? It's really nice to be over that hill, but Avalanche fans are still kind of halfway up it.
The main problem seems to be if you stood a two-by-four up next to Joe Sacco behind the bench, you might not be able to decide who was a more charismatic coach--and if you drew a smiley face on the two-by-four, the two-by-four might win. Joe Sacco is beige. Joe Sacco is oatmeal. Joe Sacco is a nice guy--and he's an ex-Cap, so we can't hate him ever, but he might be the next one to get axed in the Great Coaching Cull of 2011. Watch your back, Joe.
GABRIEL LANDESKOG WILL YOU MARRY ME I'M YOUR BIGGEST FAN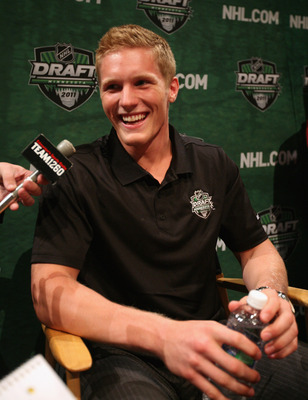 He's in the running for this year's Teen Phenom. He's pretty far behind Ryan Nugent-Hopkins. He has not scored in seventeen games, but he's been kind of assisty now and then, so we should probably keep an eye on him, but less of an eye on him than if we were thirteen year-old girls.
I HATE LATE START TIMES AWARD
Boo. What the fuck are we all going to do for an extra two hours? Take up knitting, maybe.
Could make like a scarf or something.
Whatever. Late game means more partying. Try not to get dizzy in the altitude, Capitals. You've got this.
Let's go Caps.