What a game on Friday, huh? Any game where we get to throw hats is automatically a good one, though the last minute suspense was a little unnecessary. The Caps are in the top 8 now, but Eastern teams are still all awkwardly bunched up together--it's going to be a dogfight just to stay there.
There is no more fun team to strip two points from than the Carolina Hurricanes, though, so I vote we keep the ball rolling. Go go gadget win streak.
THE DEVIL WE KNOW AWARD
The man responsible for a lot of the frustrating defense that we remember from the Montreal/Washington series is now the boss in Carolina, and this is the first time the Caps will have a chance to play them in the Kirk Muller era. Much like the new Hunter Caps, they're still in transition to some extent, but they're starting to show flashes of being really fucking annoying--such as last night, when they beat the Bruins 4-2.
Let's hope the Caps are ready to remind them where their place is in this division--the very bottom of it.
NO PITY
If this picture of a three-legged dog made you sad or sorry for him, then you are not in the right mindset for this game.

Once again the universe is providing the Caps a team that's struggling badly--fighting the Islanders and the Lightning to stay out of the basement of the East, sitting at a glorious .424 win percentage--and once again, a team on their second night of back-to-back hockey. At this point, these guys need to rebrand from Hurricanes to Mild Tropical Winds, because they ain't blowing over shit.
Please do not mistake this as an opportunity to sit back, relax, and lose the fucking game, Capitals. By all means, kick them when they're down. This is war. Or it's hockey, which is basically the same thing.
MOST LIKELY TO HAVE HIS WARDROBE CHOSEN BY
READERS OF SEVENTEEN MAGAZINE
Everyone's favorite dreamboat, Jeff Skinner, may make his return against the Caps--he's been out with a concussion, so we're glad to see him healthy again, regardless of how much more difficult he might make things.
It's also a good excuse to revisit the beautiful thing that happened the last time the Canes came to town.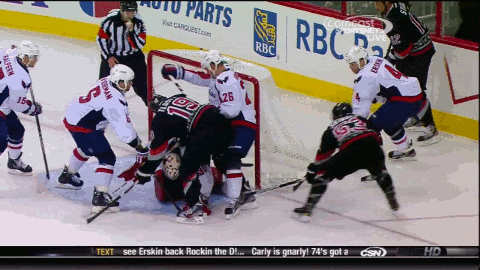 The gif that keeps on giving.
GUARANTEED GOAL
I usually don't even try to goal-call, because I'm bad at it, but Matt Hendricks has had some monster shifts the last few games, a few goal posts--this guy wants to score a fucking goal. I'm going to say it happens. Bet you a case of beer.
None of this listless hockey shit. None of this letting-them-get-back-into-the-game shit. We've filled our quotas of both of those kinds of games this season, no more are necessary from this point on. Florida has held the lead now for long enough that they're probably getting funny ideas about who runs this division, and a win tomorrow would finally--fucking finally--tie us up for first place in the Southeast.
So how about two points, yeah? We would love that, and so would the team. Everyone wins.
Let's go Caps.