Remember that time when I was saying that championship teams aren't measured by winning when everything is going right, but how they respond when everything is going wrong? (

© every sports movie ever)
Well, thanks for the object lesson, Capitals.
Be on the lookout for sirens in the DC area tomorrow, because the Caps committed robbery against the Anaheim Ducks. In related news, I apologize to my neighbors upstairs and across the hall for the shrieking--at least this time it was good shrieking, huh?
Ladies and gentlemen, this is why you never turn off a Caps game.
So I don't know if the first period here was worse than the first period in Vancouver, but it was a photo finish for Worst Period This Season, for sure. The Ducks have been losing a lot, and they're not the kind of team that gets complacent and listless about that--they came out snapping their teeth at us, nasty wounded animals. (Wounded ducks?)
Ridiculously dominant play for a while. Cody Eakin reminds us that he has made the special trip down from Hershey just to be here with us tonight by wrapping around back of the net and trying to tuck in a goal. It doesn't happen, but we appreciate the effort--it's always fun to watch an NHL debut, and this was a pretty good one, kid's got a lot of speed, a lot of spark, and extremely red hair.


Doesn't go all that well with the uniforms, but we're happy to have him here nonetheless.
I have some momentary distress at seeing Knuble on the fourth line--at this point, Bruce Boudreau has basically tossed all the players in a hat and started picking lines at random. Knuble on the fourth line doesn't make sense to me, but I am not an NHL coach. Have to assume there's some method to the madness. Right?
The third line pushes back. Thank God, at least they have been left intact, and we briefly gain some ground.
The Ducks respond as waterfowl do in the wild, and get even nastier--there's some unnecessary pushing and shoving occurring and what do you know, the next shift--Hendricks and Beleskey drop the gloves. There is no picture of this for some reason so please enjoy this representational stand-in of our very favorite Matt Hendricks, who is the toughest person you know of and probably eats nails for breakfast:
In this instance it wasn't actually that much of a fight. Beleskey takes one huge swing and Hendricks--misses--and topples over with his own momentum. Down for the count. Hendricks' face says "...okay."
Fighting on ice--not for the weak of balance.
Ovechkin gets a few blazing chances but Hiller blocks them (speaking of balance) (whoops, jokes I shouldn't write down) (whoops too late). Then, behind the net, a very bad thing happens--Wideman and Hamrlik both go back for the puck, basically uncontested, and...neither of them picks it up. Somehow.
Seriously, what the hell. It was this weird moment of "you got it? I THOUGHT YOU HAD IT" and it can be partially chalked up to this defensive pairing being very unfamiliar with each other, since they were both victims of Boudreau's Chinese Fire Drill and were playing together for the first time.
Koivu scores.
Just to warn you, the press basically avoided photographing a single thing that the Ducks did tonight, so most of these are from the movie Mighty Ducks.
You know, because you definitely wouldn't have caught that on your own.
1-0 Ducks, but if you thought that this was the goal that was going to wake our team up, you were wrong. Every Duck possible is jammed into our crease, attempting to score via the Goals Through Pushing and Shoving method--several close calls but Vokoun stops them. Increasingly bizarre lines are going out--Knuble-Perrault-Ovechkin? ...What?
Possibly because of sheer, total confusion, we fail to pick up Teemu Selanne--you know, because he's definitely not going to take the puck and smoke everyone and score on us.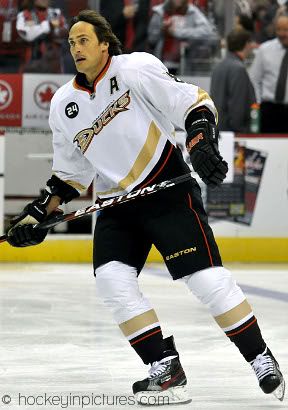 Our defensemen are utterly confused. Utterly. No idea there's a hockey game going on.
More of the Ducks pissing me off by standing around in our goal, but this time it results in an interference call--actually not on Vokoun, on Schultz, but it's a power play for us either way. We have about ten seconds of pressure and then the puck gets cleared like five times in a row. No score.
At the end of the period, shots are 9-6 for us, but we are in such a state of disarray that I can't even believe it. Generally our second period has been a lot better, though, so I have hope.
Nope. Still not good.
This is an unfair picture to use here actually, because Semin has been hustling all night--for my money, he's had one of the most consistent efforts on the whole team this season. Then again, it is a contract year.
We're out of position all over the ice. Selanne takes advantage of this.
What have we done to enrage the Finnish gods tonight? I am curious. FINNISHNESS EVERYWHERE. 3-0.
At this point, apparently the "Unleash the Fury" montage starts playing in the stadium--way early, halfway through the second period. This is earlier than I've ever seen it played, but I'm not complaining, because we kind of need it.
All right. Let's do some unleashing.
Johansson gets tripped up and there's no call, but that's okay because seconds later there is an even more obvious trip, and this one puts us on our second PP of the night. We really need to score on this, because the last sixty minutes or so of Capitals hockey have been painful to watch, and I would have given my firstborn child for this goal.
Fortunately I didn't have to, so now I can save them for bartering in more important games in the future.
We don't score on the PP again, but we do get a good forecheck going and we stay in the zone once it's over. Persistence.
And you know which player I'm talking about when I say "persistence".
You can hear the "YES" from Joel Ward on the replay of the goal, and this is exactly how I feel. I don't care that we're still down two goals, we're finally rolling.
The Ducks are still sort of outplaying us, but they're not outplaying everyone anymore. The third line is feeling good, has all the sizzle that a line can possibly have, they're putting the pressure on. Knuble is looking amazing--luckily, he's the kind of guy that responds to a demotion with fury and not indifference. I am still watching Selanne's shifts through my fingers, but I'm not terrified about life anymore.
Hiller overcommits, gets stuck and we have a literal open net--and miss the initial shot, but then bury the rebound.
Wideman! All is forgiven, I love you again! Thus begins his second points streak of the season.
3-2. We've got ourselves a hockey game.
The team feels it, too--we're physical all of the sudden, throwing hits, shoving people around, and that's not typically the Caps, but the tide has turned. Johnasson backchecks like a motherfucker and they can't get us out of our end, Hiller's looking shaky, we've got momentum--and so of course, that's when the period ends.
I hate that white noise at the beginning of a period when the crowd hasn't figured out what kind of period it's going to be next--and that's what the Verizon Center sounds like at the top of the third, all buzz, nerves and excitement. At first the team kind of feels the same--definitely in it, trying to find that momentum from last period. Eakin once again is all bounce and enthusiasm, Ovechkin's line is having some monster shifts but we still don't have our tying goal, even when Hiller loses his stick and has no idea where the puck is, and still manages to save it.
Vokoun kicks his foot out aggressively on Corey Perry to save and accidentally sort of sends him head over heels into the boards instead.
Now I know this isn't the point in the game to be happy about a penalty, but I always find goalie penalties awesome. Sure, it's great when the players defend the crease, but it's even more awesome when the goalie does it himself.
I stop laughing when Corey Perry scores on this penalty.
Nothing is funny. Our rah-rah-we-can-do-this one-goal-game is gone, and we are 4-2.
I hate that whenever our team is losing, Versus commentators choose to take some time to discuss whether or not Ovechkin has been dangerous. I'd be really annoyed about that, but if you have been on the internet, at all, in the last 24 hours, you know that this is not even close to the silliest controversy to come out of Ovechkin's night.
We've got time. We can make this happen.
This is never just empty platitudes, not with the Capitals. The third goal is exactly the goal of the mood on the ice--cornered, clutch, a little desperate. The puck gets up in the air and Perrault takes a baseball swing at it but misses, and there's a huge scramble that ends up with the puck in the back of the net.
It gets credited to Brouwer--I can't for the life of me figure out why those two are on the same line, but IT SEEMS TO HAVE DONE SOME GOOD.
3-4. We're coming for you, Ducks.
Knuble's back on the first line--good move, he's our clutch guy and that's what we need right now. We are so hungry, we want so bad--there's really no point in coming back almost all the way. Great shift from Eakin and Erskine and I am so. Happy. To see that big number 4 on the ice again.
Caps are crashing the net like the Stanley Cup is at the back of it. My face is about an inch from the screen.
Troy Brouwer hits the boards awkwardly and skates away from it looking like a bird with a broken wing--clearly in pain, and it's the shoulder that he just had surgery for it, so this is not a good sign. But he's able to get off the ice and we keep rolling lines--everything is desperation on both sides, and we need a goal.
I take no notes for the last five minutes of the game, because I am dying.
Backstrom.
Backstrom.
I could kiss this man on the mouth. With forty seconds to go, forty. Seconds, we tie it up, and we go to overtime. I have trouble expressing how I feel about this except through incoherent sounds, and everyone in the vicinity probably thinks I am being murdered.
If you turned this game off after the first period, you probably thought we lost.
If you turned this game off after the second period, you probably thought we lost. If you turned it off at any point during the third period, you probably thought we lost.
But we didn't lose.
Nicklas Backstrom is determined to singlehandedly save the entire game tonight, so in overtime he comes up with a beautiful shot on goal, and he nails it.
Win.
TOTALLY IMPROBABLE BUT NONETHELESS AMAZING WIN.
As John Walton would say, "good afternoon, good evening, and good night, Anaheim!"
Despite the fact that I spent half of the game in total despair, this is my favorite game of the season so far--because it was kind of bad, and ugly, but we won anyway, and that makes everything okay. Sure, there are issues that will need to be addressed--the PK and PP are on life support, call a doctor--but we won, we didn't lose. And winning heals everything.
I have to say that I'm a HUGE fan of the way this team has been able to bail each other out so far in the season. If the goalie is struggling, if the defense is struggling, the offense can win it back--and if the offense is struggling, the goalie and the defense is capable of picking up the slack. The combinations of that we've seen even in the ten games so far have been really encouraging, and I'm glad to see it again last night.
Because some days winning games is about dominating and doing everything right--and some days it's about winning even when you really shouldn't. That probably wasn't a fun game to play, but it was an incredible game to watch, so thank you for that, Caps. Take the momentum that you stole and run with it--think about how raving mad the Ducks must still be this morning. It's not a three-game losing streak, it never was. It didn't get there.
We'll take it.
This team is are amazing. Have you hugged your Nicklas Backstrom today?
Let's go Caps.