I'm a Caps fan--that means I'm equal parts horrifyingly jaded and stupidly optimistic. You wouldn't think it with where we ended up in conference standings, but a lot of things did not...really........WORK. Last year. There were a lot of parts that weren't clicking. There are a lot of parts that still may not be clicking.
But fuck it. Look at this team, they are amazing. Look at what they've done--barring some kind of slump year again, it's much more likely that they'll regress back to the statistical mean. Things will be okay. Things will be somewhere on the scale between okay and amazing.
That doesn't mean that I'm not stressing about some things--partly out of boredom, partly out of having to leave some issues cold in March and not being able to get any answers to our questions until October.
Mostly boredom, though. It's the offseason. Time for some fucking LISTS. So here are some concerns, and some reckless banishment of them, PART ONE.
1. Center center center center.
ALL THE QUESTIONS IN THE WORLD LIE HERE. Is Backstrom going to have a bounce-back year? Pessimism says: no. 2009-10 was a career year, and he will never reach those point totals again.
Optimism says: well actually, yes. Seriously let's see a season where he doesn't have a broken thumb. Backstrom is a TALENT, he's one of the top playmaking centers in the league. Still. He drove me so crazy so many times last year but maybe not all of that was his fault. I want him to show me something this year, he is on notice--but I think he will. Optimism says 20 plus goals, 60 plus assists. You hear that, universe?
Is Marcus Johansson capable of shouldering a 2C role?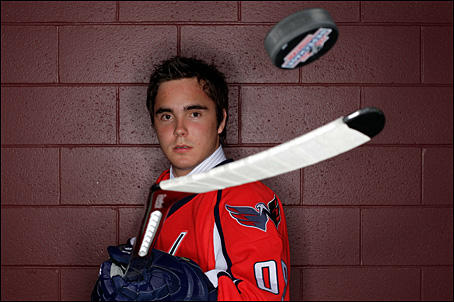 Pessimism says: no. He often seemed a little lost last year, got pushed around by other players physically, and had a little trouble adapting to North American hockey. He's still very young and he's not ready for it.
Optimism says: yes. He got better the more the season went on, and he's starting to show signs of real chemistry with Semin. I'd like to believe that he can do it, if only because that would be really fucking convenient.
2. Ovechkin.
Well what about him, then? Is HE going to have a bounce-back year?
Pessimism says: no. Powerhouse scorers normally have their best years in the beginning of their careers. It's not that 25 going on 26 is OLD--it's just that other than the occasional outlier such as Yzerman, superstars normally win Stanley Cups for their teams in their first five seasons, or not at all. HELP. I HATE SEEING THESE KINDS OF STATISTICS, THEY ARE ALARMING. There's no way he's on the downswing, there is no way. However: last season was scary.
Optimism says: yes. Because Ovechkin is not a normal player. He's a generational talent, he's
already
the most prolific scorer in the post-lockout era, and the only truly consistent power forward of the past five years. A lot of the issues with his production last year are easily identified: lack of proper conditioning. Lack of help from his number one center. He has every reason to be better this year than he was last year--he may be on the downswing as a scorer, but he's coming right into his prime as a player. Hell, I don't need 60 goals from him. I'll take 50. I'll take 40. I just want to see him blow my mind again.